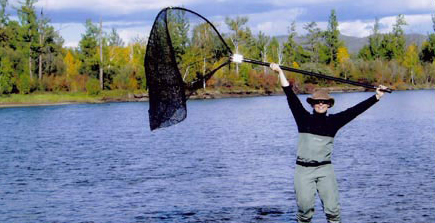 About the Fishing Show
Brave the waters and travel with Kathryn on her fishing show to some of the world's most remote and exotic fishing destinations in her quest to conquer the top game fish. With What A Catch, Kathryn pushes the limits of the great outdoors and her personal physical endurance to capture the essence of a true adventure. See Kathryn as she tackles unparalleled challenging elements and extreme wilderness conditions to bring viewers closer to the thrill of the catch. Kathryn is among the elite group of professional women that fish.
What A Catch represents a slice of Kathryn's own life. From Iceland to the Bahamas, the show takes the viewer on a breathtaking journey to remote countries to explore the prized game fish and the extraordinary surroundings that include panoramic views, and a look into diverse foreign cultures and foods. An encounter with sharks, fly fishing for salmon, bouncing a Bass Popper off a Cayman's head, standing chest deep in Piranha and snake-filled waters… these are just a few of the blood rushing and exciting experiences that Kathryn shares with viewers.

Each episode is filmed in high definition using as many as three HD cameras to capture the majesty of these unchartered waters and vistas. What A Catch is filmed in exotic locations. Focus on landing a different species of game fish per episode.