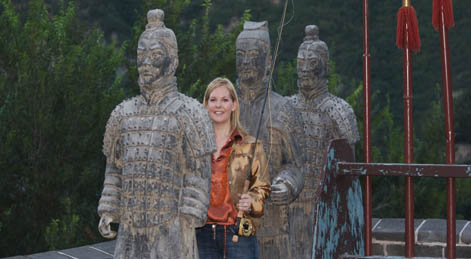 Testimonials
Dear Kathryn it was a pleasure to have met you even for only a few minutes, my two passions are Hockey and Fishing, my hockey playing days are over but my fishing keeps expanding. I get to see a lot of celebs coming through Customs in Halifax and you rank right up there with my boyhood idol Bobby Orr not even home town " Golden Boy Sid the Kid "excited me to meet in person. I love your show and it shows that you love what you do.
Sheldon Mackintosh
I'll be looking forward to seeing this new season of adventures. You have a special sensitivity to the people of the countries that you fish in. You display the respect a guest should have in the home of ones host. That makes you special.
Peter M. Spirito
- Angler
"I had the pleasure of watching the show today for the first time, good to see a new and fresh approach to the sport. Look forward to more episodes."
Louis Milo
- Angler
"I just watched your sailfishing program and was on the edge of my seat! I think I've caught all your shows up to now and you really hit your stride with this one. Just a little taste of the local off-water culture and a heaping platter of great fishing action. Nice job landing that big one on the fly."
Peter Tilton
- Angler
I recently witnessed your show for the first time (Margaree River Episode). WOW! You have accomplished what no other production of its kind has. You have merely taken myself, the viewer to a destination and fished, and you have not focused on merely the material aspects of the sport. Instead you have captured the culture of fishing and all the memorable experiences that go with it. Your production touched all my senses. It was indeed refreshing! I wish you much future success.
A lifelong fisherman
I saw your program from N.S. fishing for Atlantic Salmon. I hate to keep bragging on the show, but your show is so much different from the normal fishing show. There is an aire of class about it that is certainly missing from the other shows. Yours has an artistic approach that shines, especially in the areas of music and photography. You are not only a skilled fisher lady, but a good judge of what's good and what is great. Keep up the great work. Looks like our coastal/gulf fishing will have to go on hold for a while.
Tip Harris
- Angler.
You're doing a great job promoting fly fishing. The best part is you're also having women and girls watching your show. In fact, I took a couple girls fishing and now they have the bug. My 2 young nieces are now after me to take them. The one is only just starting to fish and she wants to learn to fly fish like you. I told her she has to get a bit older, but I she will be in love with it as you are. Also, I sometimes have my wife sit down and watch your show on her own, and she doesn't even fish. Yet!
Nick Somarelli
- Angler
"Captivating, Factual and Unparalleled......Kathryn dreams the outdoor production and then brings the dream right into your Living Room!"
Jim Burton
- Lodge Owner
I have been fly fishing for 10 years and I just wanted to say I love your show. My favorite episodes are Taiman in Mongolia and Pike in Ireland. Your show is unique in that you focus as much on the location and culture as you do the fishing. That's what it is all about, the places you go and the people you meet, not just the fish. Thanks and keep up the good work.
Matt Sacco
- Angler
I try and watch your show each week and I think that you do an excellent job of hosting… I recently watched your show on Flowers river. I live in Newfoundland and have been fly fishing since I was six and find it relaxing an peaceful. There are 177 scheduled salmon rivers in Newfoundland and I have up to date fished on 36 of these rivers. My goal is to finish all the rivers in Newfoundland as I can. I don't consider a river fished unless I have hooked and released a fish on each river… Of all the fishing shows that are on TV, I have to say that with regards to fly fishing I really enjoy watching your show. It is well scripted, educational, and interesting to watch. I feel that you handle yourself in a very professional manner and it is nice to see that you promote good fish etiquette and catch and release. Keep up the great work and I look forward to your upcoming episode. Take care and maybe I may see you on one of Newfoundland's beautiful rivers.
Ian Durdle
- Angler
I've thoroughly enjoyed your show over the past few years. You have raised the bar for all other fishing shows to follow your lead. With high quality production and more importantly inspiring us to visit the same areas rather than merely showing us 30 minutes of thrashing fish and listening to mindless male fishing banter. Keep up the good work!!! I see that you have an episode in Australia listed on your website which I haven't seen yet.  We introduced our 4 year old daughter to fly fishing this summer and she caught her first fish (with a little help from dad) so hopefully we'll have many more years together sharing the joys of fishing.
Gordan Kalisch
- Angler
Caught your show for the first time earlier this month, the episode where you are looking for trophy bones and enjoyed what I saw. I then caught the tail end of the show that aired this past Sunday in Mongolia and thought that this is definitely a show that's worth watching. I could give you a long, convoluted background of myself, but instead, I'm just going to say that I have been a part of this industry a long time, have seen shows like this come and go but this is one that I would like to see stick around.
Brendan O'Farrell
- Fisheries and Wildlife Technician.
I have just recently started fly fishing, and must thank you, since I have caught the bug after seeing one of your adventures. I have fished before, but had become tired of the same old scene of 12 guys (rarely any women) around the same hole harassing 2 tired trout. I now go out with my fly rod, and look for water that everyone overlooks (often walking past the same people flocked around the same hole!!!) Many days I don't catch anything, but that's okay because just casting in beautiful surroundings has become satisfying. Eventually one day I will travel too and experience great adventures like yourself, but for now I will keep living vicariously through you!! Great show, admire the way you handle and release every catch, can't wait for the Spring!!!
Roy Camara
- Angler
Love your show, for once a show on the sport of fishing without all the promotions. Thanks for doing it with class.
Dean Mundhenke
- Angler
It is a work of art and one of the only things I've ever seen which truly conveys my feelings about fly fishing. The sense of the place was amazing. As I get older, my recollections, of course, include the excitement of fly fishing, but more and more, I remember the feeling of standing in the water in a beautiful spiritual place with my fly line describing the universe as it sails through the air. It's not something I've not been able to put into words. Kathryn, you captured it. Thank you.
Duncan King
- Angler
"Nice to see an outdoors show that is entirely different from the rest... thanks for not using the word 'buddy' there's enough of that on OLN. All the best in your endeavors, great show, well filmed, well edited and it's obvious the host knows what she's doing."
Darryl Choronzey
- Fishing Show host
During the first show on Mongolia sitting and watching it was like a friend coming home, so Welcome Home Friend and I'm looking forward to new shows.
George Phelps
- Angler
Wow! What a fantastic performance. You are so confident, calm, accurate and superb! Watching you was like viewing "poetry in motion"! What a great role model you are for women Fly Fishers.
Rosalie Wysocki
- Angler
I saw the "guides"/NWT episode this Sunday, I think it is my favorite! (Along with the other pike episode in the NWT). Nobody ever gives the guides credit, much less a behind the scenes look into "guideland"! and the fishing and the underwater filming was fantastic. I'm sure you enjoyed that experience. It was just incredible.
Joe Fabian
- Angler