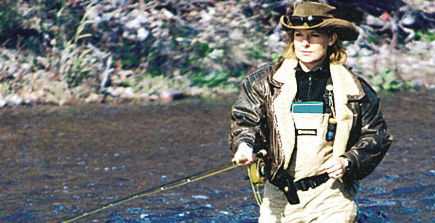 About Kathryn
Kathryn Maroun Bio
Executive Producer and Director
One of North America's most beautiful and skilled outdoor sports women, Kathryn Maroun is a fly fishing expert with a mission. From Mongolia to the Bahamas, Kathryn doesn't fish everyman's water; she thrives on experiencing the thrill of fishing in the most remote and exotic locales around the world. In her pursuit of the top game fish and her need for adventure, she has fished in the four corners of the globe and has caught and released some of the most prized species of game fish on earth. Kathryn found that woman that fish were lacking good outdoor clothing that fits properly. Kathryn decided to design and sell a line of clothing that is "for women at work in the outdoors".
Kathryn is the only woman in the province of Ontario to be certified as a casting instructor by the international body of Federation of Fly Fishers and is one of only three Canadian women certified in the sport. She has competed for Canada on the world's stage. Kathryn has been hard at work training with the world's top Masters to further enhance her skills to be certified as a Master fly casting instructor herself one day. Kathryn is a strong believer in conserving the fragile ecological balance of Canada's freshwater resources and has acted as a National Director of Trout Unlimited Canada – an organization that protects and restores Canada's cold water resource.
Kathryn brings her unique mix of fly fishing expertise combined with her fresh, dynamic personality to entertain television audiences around the world. A dream come true for any director/producer.
With an aim to bring awareness to the wonders of fly fishing and the physical and emotional benefits of the sport, Kathryn has established "Whatacatch.net", a specialized production company that has created an innovative new adventure fishing show that aired for the first time in April 2005 on the Outdoor Life Network to an audience of over 63 million North Americans. The flagship series aired in the United States – it is unusual for a series to air outside of its own country, but its successful test market in the US was a sign of things to come and launched the series on an international tour the following year. Kathryn is the designer of a stylish clothing line especially designed for women with a penchant for spending time outdoors. Kathryn is a co-founder of Casting for Recovery Canada (CFRC) www.castingforrecovery.com – a cause that utilizes fly fishing to aid breast cancer survivors.
CFRC was established in 2004 and Kathryn is the president of this organization. She uses WAC to get the message out to the public about the benefits of fly fishing and healthy lifestyles. Fishing goes hand in hand with friendships and a balanced lifestyle.