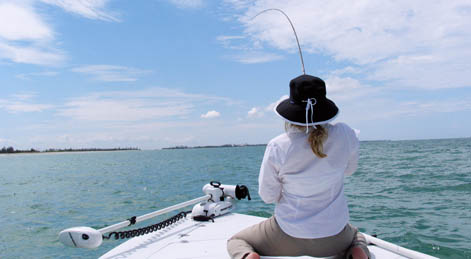 2012
|
2011
|
2010
|
2009
|
2008
|
2007
|
2006
|
2005
|
2004
|
2003
| 2002 |
2001
|
2000
Kathryn is on the cover of the Trout Unlimmited Lifetime Application form.
image
Kathryn is featured on Fishing with Shelley and Courtney. She organized for the show to be shot in Little Cayman as a guide.
Kathryn is featured in International magazine while competing in France.
image
Kathryn is a guest speaker at the 10th Annual Spring Fishing Show
She presented about Atlantic Salmon fishing trip and was one of the fly tiers in the International Showcase.
image
Kathryn is feature in a European Magazine after competing on the world stage in the fly fishing championships.
image
|
image
May 2002
Kathryn and the G. Loomis Pro Staff Team teach an angler development program at The Franklin Club in Ontario, Canada.
July 2002
CANADA'S TOP FEMALE FLY FISHER RETURNS FROM 22nd WORLD CHAMPIONSHIPS
Emphasizes Importance of Environmentally-Friendly "Catch and Release" Practices
read more...
July, 2002 - Toronto, Ontario - Kathryn Maroun, one of Canada's top fly fishers, returned home recently after a strong showing at this year's World Fly Fishing Championships held in the Montagne Vosgienne region of France. Kathryn was one of only three women competing in this year's event.
Kathryn Maroun is one of only three women in Canada, and the only woman in Ontario, certified by the Fly Fishing Federation (FFF) to teach the sport and casting techniques. She travels extensively to fishing destinations around the world, and has given numerous talk at fishing and conservation forums on the sport and the importance of "catch and release" practices. She is a National Director of Trout Unlimited Canada, a non-profit organization dedicated to preserving Canada's coldwater resources. This was her first time representing Canada at the World Championships.
"Fly fishing is one of the only sports in the world where men and women can compete together at a National and International level. I was very proud to represent my country, and I hope to see more women participating in next year's competition," Ms. Maroun commented.
The competition, begun in 1981, is organized by the Federation Internationale de Peche Sportiv Mouch (FIPS Mouch) and has become the premier event for master fly fishers from around the world. For three days beginning July 3, 2002 more than 2,500 spectators avidly followed competitors from 21 countries as they converged on the lakes and rivers of the picturesque Vosges et du Haut-Rhin region near the border between France and Switzerland. Each team, made up of six fly fishers, tested their skills to determine who could catch and release the largest number of trout and grayling in a three-hour period in each of three different rivers and a lake over the three days of competition. This year, the championship was won by France for the third consecutive time, while Canada placed seventeenth.
"This was the most physically demanding and exciting fishing I have ever done, and what I learned at the competition would have taken me years to gather on my own. The championships have also exposed this wonderful sport to a much wider audience while at the same time providing valuable lessons in conservation and catch and release practices. I hope we will see the competition come to Canada in the near future," she concluded.
The 2003 competition will be held in Spain next June. More details about this year's competition can be found www.mondialmouche2002.com.
For more information, please contact Kathryn Maroun at (416) 347-7000 or e-mail her at kmaroun@rogers.com. Additional information and pictures are available at www.whatacatch.ca.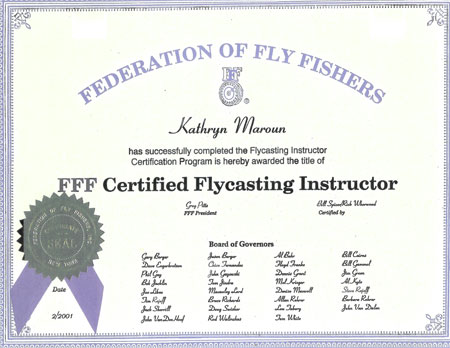 July 2002
Kathryn is featured in French Newspaper at the 22nd World Fly Fishing championships held in France.
read more...
Fall 2002
Kathryn is a guest guide for Fishing with Shelley and Courtney in Gaspe Bay, Quebec. Kathryn liaised with the camp and made it possible for the series to shoot two shows on the site.
September 2002
Kathryn is featured in a Mississauga News article.
read more...
November 2002
Kathryn is a fill in co-host on Fishing with Shelley and Courtney, with Shelley in Chile where they shot four shows throughout the country.
November 2002
Kathryn does an in store lecture on Atlantic Salmon Fishing on both sides of the pond held at Pollack's Fly Shop.