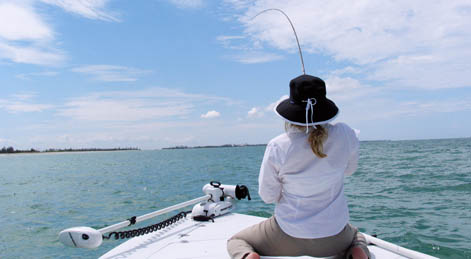 2012
|
2011
|
2010
|
2009
|
2008
|
2007
|
2006
|
2005
|
2004
| 2003 |
2002
|
2001
|
2000
Kathryn is featured on the Outdoor Show, fishing show.
Kathryn completes the CFR training seminar in New Hampshire.
Kathryn is recognized for landing a trophy Bone Fish in the Bahamas.
April 2, 2003
Toronto Sun Article Thursday "Fishing for female fly casters"
read more...
April 2003
Kathryn's flight jackets and clothing line are featured as live auction items at the Atlantic Salmon Federation at the Royal York Hotel.
May 2003
Kathryn appears on "Off the Record" with Michael Landsberg.
May 2003
Kathryn successfully completes the fly casting instructors course given by Joan Wulff in New York.
The Sun features Kathryn in their article
"Reel Women are on the Rise"
read more...
August 2003
Kathryn is featured in an Icelandic Newspaper.
read more...
Fall 2003
The Canadian Fly Fisher Magazine feature Kathryn's clothing line in a special Christmas gift campaign.
Winter 2003
Kathryn has a feature article called "Corporate Women Find the Equalizer" in Volume 8 no.2 of the International Women Fly Fisher newsletter.
read more...
December 2003
Kathryn appears on the John Oakley show on CFRB 1010 for a fun on-air panel discussion of news and views of the day.