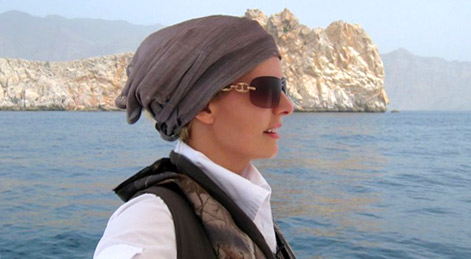 2012
|
2011
|
2010
| 2009 |
2008
|
2007
|
2006
|
2005
|
2004
|
2003
|
2002
|
2001
|
2000
Jan 2009
Kathryn teaches young students about leadership and sports.
Watch Video
Jan 2009
Kathryn was selected to receive an IMDb Title page for "Braided Bounty
in Brazil".
Feb 2009
Series five is being shot and edited. Kathryn reflects back on 10 years of doing fishing shows.
Feb 2009
Legendary Captain Stu Apte tells Kathryn all about his memoirs.
Check out
www.stuapte.net
.
Mar 3, 2009
Harry Piper invited Kathryn to write a review of his book 'Ballad of a Bighorn Guide'.
read more...

Main quote
"I've read each page like a hungry brook trout drunk on Mayflies after ice out. I've lived these words, but it takes me 30 minutes in my TV show to accomplish, somewhat, what Harry Piper does in a page or two. His words make me happy, sad, excited, curious, worried, satisfied, victorious, playful, young, old, reflective, mischievous, and more. I even learned a thing or two. (I googled Tiktaalik as well as a few other things.) This book tells the secrets of an angler's heart and gives voice to what all fisherman know but can't say. For the lucky ones of us who spend quiet time in the great out of doors, we have Harry Piper's words to help explain [it] to the rest of the world--the noteworthy and at times humourous observations of a great sportsman."

Back cover quote
"You will be compelled to read and re-read these poems about the mysteries and revelations of the natural world, and perhaps discover why anglers are always late for dinner."
Mar 24, 2009
Kathryn is the guest speaker at the York Club.

View Presentation
Jun 20, 2009
Kath's Top Ten List was printed in the June 20, 2009 Toronto Sun for a feature on National Fishing Week.

Aug 2009
Kathryn's long time fishing buddy Mike Crosby's book goes to print. River Talk features his love affair with Atlantic Salmon and so naturally Kathryn's name comes up in his story telling.

Dec 2009
What A Catch Calendars for 2010 are available.
Follow along on Facebook to see if you can guess where Kathryn is fishing this month.
Check back in the New year for more news and updates......
until then.....gone fishing!
Happy Holidays to you and yours.