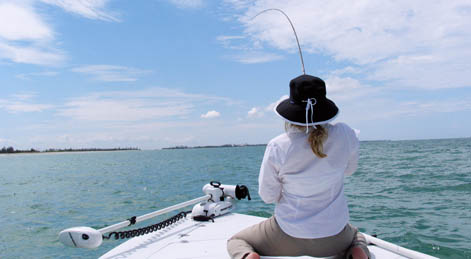 2012
|
2011
|
2010
|
2009
|
2008
| 2007 |
2006
|
2005
|
2004
|
2003
|
2002
|
2001
|
2000
Kathryn wins at the AEGIS Video and film Production and Awards
which are the video industries premiere competition for the outstanding video production.

Jan 3, 2007
TheStar.com | Travel | TV travel
Kathryn Maroun produces, directs and hosts this 13-part series which takes viewers game fishing in remote places. In the first episode, Maroun, a casting instructor certified by the Federation of Fly Fishers, is in Patagonia at the tip of Argentina, coaxing brown trout in the narrow waters of the Rio Chico. Later, she trackles taimen in Mongolia and Atlantic salmon in Labrador.
read more...
January 8, 2007
Kathryn goes live with Annette on CH Morning Live.
January 26, 2007
Kathryn is interviewed on "The Arlene Bynon Show" on 640AM
February 1, 2007
Kathryn did a feature presentation on Peacock Bass fishing for the Winter Hatches Presentation at a fishing club.
read more...
February 2007
Kathryn was part of the three person panel to do a Q & A session with MBA students at the Schulich School of business as part of an all female entreprenuer event that the Entrepreneurial and Venture Capital Club (EVCC) was holding.
July 11, 2007
Kathryn teaches session for CHCH News
Watch Video
Fall 2007
"What a Catch filmed two shows in India"
In the month of May, Kathryn returned from exotic India after catching the mighty Mahseer. Kathryn is planning to go back to India because she is hooked on Mahseer fishing.
read more...
October 2007
Proud winner of the Accolade Awards International Award, Kathryn joins the ranks of other high profile winners of the internationally respected competition.

November 29, 2007
Kathryn participates in Orvis Store DVD Signing in USA.
read more..
Winter 2007
Kathryn traveled to Australia and caught three-foot waves and whitecaps.
read more...
December 2007
WAC winner to present at wild sounds December Film Festival